Quiet Technologies Halo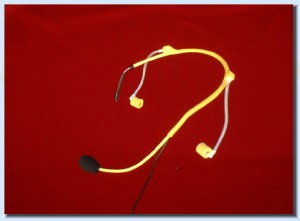 The Quiet Technologies Halo headset is an in-ear passive noise reduction headset which uses standard audiology ear tips for noise attenuation. Its design is simple: Two small hearing-aid style speakers and a flexible microphone boom are attached to an adjustable headband, the speakers are connected to the ear tips using silicone sound tubes (so you aren't constantly manipulating wires inserting and removing them), and a volume control wheel and Stereo/Mono switch are provided on the headset cable.
For a relatively simple headset the Halo is surprisingly capable: noise attenuation is better than the standard David Clark over-ear passive headsets, and based on my limited testing it was equal to the Bose A20 ANR headset (and far superior when the batteries failed in the Bose). Audio quality is good – though the speakers aren't "audiophile quality" listening equipment they are more than adequate for ATC and intercom conversations, and will do a respectable job with any music you might be playing through you intercom system (the quality of your intercom will probably be the limiting factor).
As an added advantage over traditional over-the-head headsets, the Halo is extremely light, and  can also be worn in multiple positions, so you don't have to have a headset band across the top of your head for the entire flight.
There are a few disadvantages to the Halo, the most obvious being that it's an in-ear headset. If you are not comfortable wearing earbuds or earplugs, this is probably not the right headset for you! If you're OK with the idea of an in-ear headset, you will notice that the Halo takes a little practice and fiddling to get the best results. Proper insertion of the ear tips is critical to getting good noise reduction (so critical that there is a video on how to properly insert them), and this may require a little practice on your first few flights. The microphone is also particularly sensitive to orientation – you must ensure that the microphone opening is facing your lips or it will not pick up your voice (when the wind screen is on the microphone you can do this by feel).
You will probably also find that the Halo's weight advantage is also a weakness: The headset is so light that even with the headband properly adjusted, a good tug on the cord can pull it off your head or move the microphone position. This makes the included clothing clip on the cable a must-use item (I've had my best results by clipping it to my collar, or to the seatbelt if I'm not wearing a collared shirt – pull a few inches of cable through to allow you to turn your head comfortably and you won't even notice it).
| | |
| --- | --- |
| Manufacturer | Quiet Technologies |
| Model | Halo |
| Price (USD) | $359 |
| Noise Reduction | 30-45dB (Passive) |
| Stereo | Yes |
| Music Input | No |
| Bluetooth | No |
| TSO | No |